Ayatollah Khamenei gives Iran nuclear talks unprecedented legitimacy
Iran's supreme leader appears much more involved in current nuclear negotiations, meaning that any deal struck will not face resistance back in Iran. But he's also likely to press for a harder line.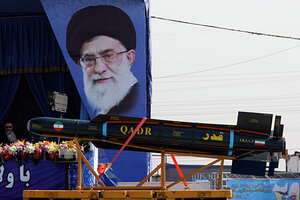 Vahid Salemi/AP
With a second round of nuclear negotiations between Iran and the "P5+1" powers just weeks away, analysts inside the Islamic Republic say Supreme Leader Ayatollah Ali Khamenei has lent upcoming nuclear negotiations unprecedented legitimacy.
For Mr. Khamenei, who traditionally maintains a quiet, albeit fundamental, role behind the scenes of Iran's foreign policies, an open involvement in current nuclear talks conveys a message that Iran's negotiators have his explicit approval.
This means their final commitments won't be protested by lawmakers back in Tehran, as they were after the country's 2009 nuclear negotiations. But it also means Iran's supreme leader, long known to harbor a deep distrust of US intentions, will expect the country's negotiators to take a hard-line on final nuclear agreements, according to domestic analysts.
"The Leader's [open] involvement in the whole process is a major shift because until now, he had never done it," says a Tehran-based analyst, speaking on condition of anonymity because he is not authorized to speak with the media. "This means Iran's negotiators will have a lot more leeway in the compromises they make, and that whatever they commit to will stick."
"So Iran will negotiate," the analyst adds. "But he's taking the lead in foreign policy because he thinks [President Mahmoud] Ahmadinejad was too compromising in the past."
On Wednesday, a chief adviser to Iran's supreme leader told local media that Tehran's "minimum expectation" for the May 23 talks in Baghdad is the lifting of sanctions against the Islamic Republic. Gholam Ali Haddad-Adel's blunt comments mark the first time a senior political figure has specifically stated Iran's expectations since nuclear talks were rekindled in April.
---