Hunger intifada? Palestinian prisoners wield new-old tool against Israel.
As many as half of the Palestinian prisoners in Israeli jails have followed the example of Khader Adnan, whose 66-day hunger strike became something of a cause célèbre earlier this year.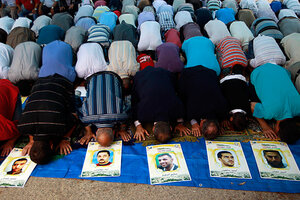 Ammar Awad/Reuters
As many as 2,000 Palestinian prisoners – nearly half of the 4,500 Palestinians currently in Israeli jails – have launched a mass hunger strike that is gaining momentum and putting pressure on Israel to review prisoner demands.
More prisoners join each day, and many see hunger striking as their last option, especially those who are held without charge or trial under Israel's administrative detention policy and limited legal recourse. They blame not only the Jewish state, which defends the policy as necessary to its security, but also the Palestinian Authority for not securing better rights for prisoners.
"The hunger strike is the strongest thing the detainee can do … a person inside jail can't make any other kind of resistance," says Khader Adnan, a member of the Islamic Jihad militant movement whose 66-day hunger strike earlier this year became something of a cause célèbre among Palestinians. "Because the detainee has no instrument for protesting, to make his voice loud, except this kind of protest. A hunger strike is using the man's own body as an instrument against humiliation and oppression."
Among those who followed Mr. Adnan's example are the two longest hunger strikers are Bilal Diab and Thaer Halahleh, who have refused food for 66 days and are in critical condition, according to Physicians for Human Rights-Israel.
---