Israel's unity government: a bid to represent the majority
For decades, Israel's system of representation gave tiny parties an outsized voice, particularly on the issue of settlements. The unity government now has a chance to prioritize majority views.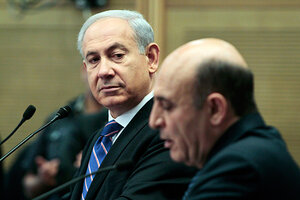 Ammar Awad/Reuters
Benjamin Netanyahu's new unity government arrives with the implication that there is something even more fundamental and pressing for Israel than peace with its Arab neighbors: fixing an electoral system responsible for political instability and outsized influence of minority groups like ultra-religious Jews.
Electoral reform was one of the four key goals that Mr. Netanyahu and his rival-turned-ally, Kadima leader Shaul Mofaz, in explaining their stunning 11th hour agreement to join forces in a unity coalition that averted near finalized plans for an election in September.
Symptoms of electoral dysfunction include a decades-old exemption allowing ultra-religious men to opt out of army service, and the inability of the government to evacuate settlement outposts built on property which even the government admits is on Palestinian land.
The culprit is Israel's system of proportional representation. Experts say it has given rise to a tyranny of the minority that rewards narrow-interest parties representing ultra-Orthodox Jews, Israeli settlers, or Russian immigrants with veto on policy by threatening to implode coalition governments.
"This means that the majority is under-represented in government and the minority is over-represented," says Amnon Rubenstein, a law professor and former Justice Minister for the left-wing Meretz Party who is pushing a plan to reform Israel's system. "This causes cynicism and loss of belief in democracy."
---