Algeria's ruling party wins polls, but turnout sends mixed message
Algerians voted in parliamentary elections, returning the ruling party to power. But many Algerians are frustrated over high unemployment and what they see as rigid rule by an aging elite.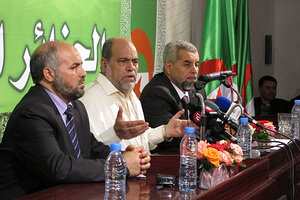 Paul Schemm/AP
It was Thursday morning, election day, and regulars packed the Quatre Saisons du Globe cafe near Place 1 Mai, a working-class area of Algiers.
"You're off to vote?" asks barman Reda Aksses of a customer. "Vote? Of course not," the man says, draining his tea and heading out in the hot, bright morning.
Jolted by the Arab Spring, Algeria's leaders have portrayed Thursday's parliamentary election, with new parties and the first-ever international observers, as both a step toward democracy and a vote of confidence. But while President Abdelaziz Bouteflika's coalition strengthened its majority, the official turnout of 42.36 percent is an ambiguous omen. The opposition Rally for Culture and Democracy party, which boycotted the vote, says turnout did not exceed 18 percent.
The challenge today for the government is twofold, says Amel Boubekeur, an Algeria expert with the École des Hautes Etudes en Sciences Sociales in Paris. It must convince world opinion of its intent to reform, and the powerful Army and security services that it can manage the country. It must also win the confidence of young people, two-thirds of whom are under 30, and many of whom are unemployed.
Most Algerians, angry about years of unemployment, corruption, and what they see as stifling rule by an aging elite, reject revolution but want change, analysts say.
"There's a nihilist discourse based on what has not been achieved," says Seddik Chiheb, a member of the National Democratic Rally party, which backs Mr. Bouteflika, and vice-president of the outgoing parliament. "The state must convince Algerians that its initiatives are well-founded."
"The young in particular understand that parliament is not where change will happen," says Mrs. Boubekeur. "Many voters will have been the older generation."
---