Egypt presidential face-off: Islamists vs. 'regime remnants'
Egypt's first free presidential election in modern times starts tomorrow, with the front-runners the Islamist Abdel Moneim Aboul Fotouh and Amr Moussa, a former longtime servant of ousted President Hosni Mubarak.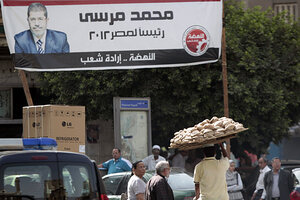 Amr Abdallah Dalsh/Reuters
Tomorrow, Egyptians will go to the polls to choose their president for the first time in modern history, but they are facing a choice of front-runners who represent some of the oldest forces in the state.
On one side is Amr Moussa, a long-time foreign minister under former President Hosni Mubarak. He casts himself as the anti-Islamist candidate, and a vote for experience and stability. On the other is Abdel Moneim Aboul Fotouh, a long-time member of the historic Egyptian opposition group, the Muslim Brotherhood. Though he was expelled last year, and has attempted to bridge the Islamist-secular polarization of Egyptian politics, in the minds of many Egyptians he is still Ikhwan.
Even a broader definition of "front-runners" doesn't broaden the spectrum: there is Mohamed Morsi, the Brotherhood's official candidate, and Ahmed Shafiq, Mubarak's last prime minister.
"Most of the candidates are old figures. Yes, a number of them were not part of the regime, but they were part of the political establishment during the Mubarak era. … Yes, a number of them were in the opposition, yet it's clear that we don't have new, younger faces," says an Egyptian blogger who goes by The Big Pharoah. "It's pretty clear that the revolution still did not develop into political choices."
A poll conducted this month by the University of Maryland found that Dr. Aboul Fotouh was leading, with 32 percent of respondents saying they favored him, while Mr. Moussa came in second with 28 percent. Mr. Shafiq garnered 14 percent and Mr. Morsi 8 percent.
---