Hopes fade for progress at Iran nuclear talks in Baghdad
Iranian officials say practically no sanctions relief was placed on the table by Western powers in response to Iranian concessions over its nuclear program, dashing hopes for any breakthrough in Baghdad.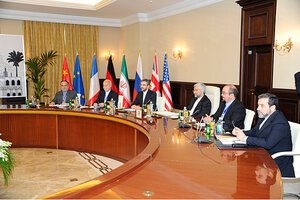 Courtesy of Government Spokesman Office/Reuters
Hope for swift progress on a nuclear deal with Tehran faded dramatically today, as world powers presented Iran with a list of stringent demands to curb its uranium enrichment but offered little sanctions relief in return.
Iranian officials said the new offer reaches beyond the step-by-step and "reciprocal" process agreed in the first round of talks in Istanbul last month, which along with positive signals from both sides had generated high expectations for Baghdad.
"The response from the Iranian side is: 'What you are asking for is ... not what we agreed to in Istanbul,' " an Iranian diplomat close to the talks told the Monitor, referring to the demands of six world powers that include Iran capping uranium enrichment and scrapping a deeply buried facility.
Steps were meant to be "reciprocal, simultaneous, and ... balanced" in their value to each side, says the Iranian diplomat. Instead, Iran was told there would be "consideration" of easing sanctions "later," after Iran made concessions.
The Iranian reaction to the proposal indicates that a serious disconnect remains between Tehran and global powers about finding the right formula for curbing Iran's nuclear work, and locking in guarantees that it will not weaponize.
That disconnect surprises Iran experts, after years in which both sides have made clear their priorities. Mr. Jalili in Istanbul was reported to have been "relentless" in requesting European foreign policy chief Catherine Ashton to ease sanctions.
---