Are terrorists beyond redemption?
The record shows that some radicals can be persuaded to give up the gun when inducements and local conditions are right. The Pentagon recently spent $4.5 million to find out more.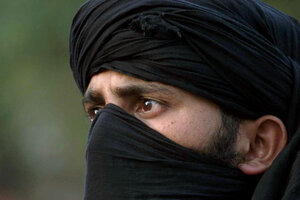 Robert Harbison / The Christian Science Monitor / File
Terrorists are often described as beyond reason, beyond redemption. But the reality, as recent and not-so-recent history shows, is very different.
The record shows that some radical groups can be persuaded to give up the gun when the combination of inducements and local conditions is right. It's an imprecise prescription. But a combination of the heavy stick of the state, followed by giving militant leaders positive incentives to rejoin a society they often come to regret having left, seems to be at its core.
Now, scholars and researchers are looking to tease out common patterns from global successes. The Pentagon recently gave a $4.5 million grant to a group of psychologists based at the University of Maryland to conduct a five-year study on not only how to deradicalize militants, but perhaps also find ways to intervene with potential recruits before they sign up.
More than 10 years after 9/11 and following the experience of Iraq, where the violence did not ebb until the US military reached out to the Sunni groups that aided Al Qaeda militants, there's a hunger for solutions that rely less on the hammer of an artillery strike and more on the stiletto of engagement with personal motivations and the broader social context.
The Pentagon grant is just the latest money directed at multidisciplinary research efforts into the causes and conditions behind radicalization. "I've seen a major shift towards sociocultural funding. The [Department of Defense] has always done it, but it's of a very different scope now," says Michele Gelfand, a psychologist at the University of Maryland who will be working on the study.
---