For Saudi ex-jihadis: a stipend, a wife, and a new life
A Saudi 'rehabilitation' program originally established to help ex-Guantánamo detainees is being expanded to include five centers around the country.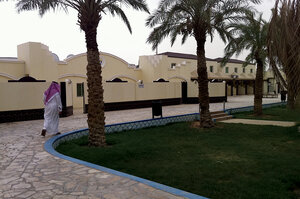 Christa Case Bryant/The Christian Science Monitor
When Khalid Suliman al-Jhari stands up to speak in his freshly pressed white thobe (a traditional Arab tunic), he doesn't look like a hard-core jihadi who scurried around Tora Bora with Al Qaeda in Afghanistan.
And he's not – anymore. Today, he's the soft-spoken father of two daughters who has returned to his native Saudi Arabia, thanks in part to a jihadi rehabilitation center set up by the government five years ago to help ex-Guantánamo detainees reintegrate.
"I have good life, a good wife," says Mr. Jhari, former Guantánamo prisoner No. 155, who is referred to as Khalid Sulaymanjaydh al-Hubayshi in US government documents. "I believe that this idea is working because the people ... are honest about fixing [ex-jihadis].... It's not just a job."
The Mohammed bin Naif Center for Counseling and Care, where Jhari spoke recently to a US media delegation, is part of Saudi Arabia's carrot-and-stick approach to tackle both the threat of domestic terrorism and the spread of violent Islamist ideology abroad. Of the 19 9/11 hijackers, 15 were Saudis.
Now, as more than 5,500 Saudis arrested on suspicions of terrorist involvement are making their way through the country's courts, the government is moving to open five more deradicalization facilities. Designed as halfway houses, the centers are meant to "reeducate" ex-jihadis to help them see that their former ways are inconsistent with Islam.
---