Syrian doctors turn to smuggling supplies as war rages on
Doctors, activists, and aid groups like Doctors Without Borders are teaming up with smugglers in Jordan to supply field hospitals for the injured in Syria's war.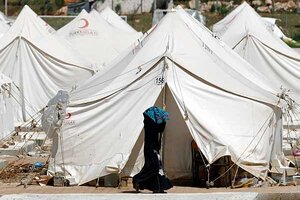 Murad Sezer/Reuters
Tucked away in the underground garage of a nondescript apartment building in northern Jordan, the door to "the warehouse" is easy to miss. It looks like it should be a janitor's closet or a boiler room. In fact, the tiny basement apartment is a way station for smugglers moving a vital product.
Inside, black and blue garbage bags are piled almost to the low ceiling: These are emergency kits, stuffed with medicine and medical equipment ready to be moved across the Syrian border to the makeshift "field hospitals" that serve Syrians wounded in the fighting.
"The guys who take it may be killed, or arrested," says a Syrian physician who maintains the warehouse. "It's a big risk." For his own safety and that of his network, he asked that his name not be used in this story. His description of the networks of smugglers, rebels, and refugees that has developed in Jordan since the beginning of the Syrian uprising could not be verified firsthand, but independent sources have confirmed most major aspects of his account.
The increasing danger of providing medical care to those in the warzone is a reminder that Syria's war continues to deteriorate, despite a UN observer mission that its leader, Kofi Annan, predicted will quell the fighting. Hundreds of thousands of Syrians have been internally displaced by the war, and tens of thousands have fled to Turkey, Lebanon, and Jordan, creating concerns of spillover in some of those nations.
---