Exclusive: Veteran Lebanese fighter trains new generation of jihadis – for Syria
Longtime fighter Mustapha explains to the first Western reporter to visit his Bekaa Valley orchard camp how he is preparing eager Lebanese to take up arms against the Assad regime.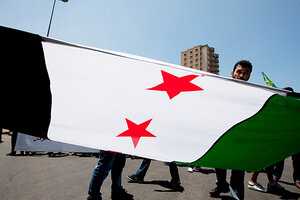 Jamal Saidi/Reuters
Mustapha ducks beneath a nectarine tree, its branches heavy with unripe green fruit, and indicates a shallow valley to the west just beyond the orchard.
"That's where we practice with rifles," he says. "There's no one around here to disturb us."
Mustapha is a veteran of Lebanon's 1975-90 civil war who is using his past military experience to train dozens of Lebanese volunteers eager to cross the nearby border with Syria to join the armed opposition against the President Bashar al-Assad's regime.
According to Mustapha and other Lebanese affiliated with the Free Syrian Army, the main armed rebel group in Syria, some 300 Lebanese Sunnis from the northern Bekaa Valley area alone have taken up arms against the Assad regime in the past year. Most of them have joined FSA brigades in the area of Homs, Syria's third-largest city.
The Lebanese recruits are not the only non-Syrians to volunteer for the struggle against the Assad regime, the FSA volunteers say. Other foreign fighters include Jordanians, Tunisians, Algerians, and Saudis.
---