In Saudi Arabia, a quiet tide of reform
Declining the revolutionary model that Egypt established in overthrowing Mubarak, Saudi reformers are working for a shift in mind-sets as well as policies – and making headway.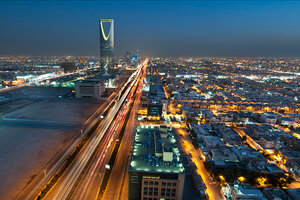 Waseem Obaidi/Bloomberg/Getty Images
Riyadh and Jeddah, Saudi Arabia
When Mohammad al-Qahtani moved back to his native Saudi Arabia after a decade in the United States, his 3-year-old daughter, Norah, was not pleased. "Daddy, let's go home," she said at the time. "This is not a nice place."
As one of the kingdom's most outspoken human rights activists, Mr. Qahtani can sympathize. But he has refused to flee.
During an intense two months of interrogations this spring, the Ministry of the Interior tried to intimidate him, on one occasion bringing a stack of printouts of his text messages. When the intimidation didn't work, the ministry tried to buy him off with a position in Washington, he says. He refused them, just as he had his daughter, who is now 13 and – like her mother and three siblings – supports his campaign for establishing a stronger rule of law.
"I take it as a moral responsibility," says Qahtani, who says he has received "credible" tips that he will soon lose his job as an economics professor at the state-run Institute of Diplomatic Studies. "It's a very difficult time…. But believe me, we can weather it.
"Maybe in 10, 20 years we can look in the eyes of our kids and say, look, we tried," he adds.
Though Saudi Arabia barely stirred when the Arab Spring erupted last year, it would be a mistake to interpret that silence as satisfaction with the status quo.
Qahtani is one of a small but growing number of Saudi reformers who are patiently working for change within the boundaries of the deeply conservative Saudi society – and making surprising progress. While few support the revolutionary model of Tunisia or Egypt, they are benefiting from an Arab Spring tail wind.
---