Satellite images suggest Iran cleaning up past nuclear weapons-related work
A report by the Institute for Science and International Security says a new image of Iran's Parchin military complex 'raises concerns that Iran is attempting to raze the site prior to allowing an IAEA visit.'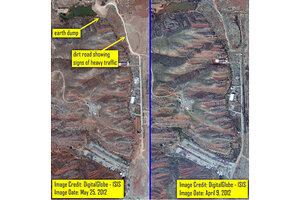 Courtesy of ISIS/AP
Updated at 2:19 p.m. on May 31, 2012.
United Nations weapons inspectors yesterday shared satellite images that suggest Iran may be cleaning up evidence of past nuclear weapons-related work, at a suspect military site inspectors have been seeking to visit.
At a closed-door briefing in Vienna, the deputy head of the International Atomic Energy Agency (IAEA), Herman Nackaerts, showed diplomats several satellite images taken over the past half-year of Iran's sprawling Parchin military complex.
The latest image, dated May 25, showed the apparent destruction of two or possibly three small buildings relatively close to the main structure – which had all been intact in earlier images.
"Iran is worried that the agency might find something there. Otherwise it wouldn't be going through the sanitization process," a senior Western official told Reuters.
Similar satellite images were later published by the Institute for Science and International Security (ISIS), a Washington think tank that tracks nuclear developments, and is used by the IAEA as a conduit for making "restricted" reports public.
The latest image appeared to show "further sanitization activity," ISIS said in a brief analysis about the "razed" buildings. "There are visible tracks made by heavy machinery used in the demolition process," and "extensive evidence of earth displacement."
But Olli Heinonen, the IAEA's head of safeguards until two years ago, says it's hard to know for sure the nature of those activities.
---