In Algeria, no taste for an uprising of their own
The violence and chaos of Algeria's civil war in the 1990s has left Algerians nervous about echoing the upheavals in other Arab countries – though many would like to strengthen democracy at home.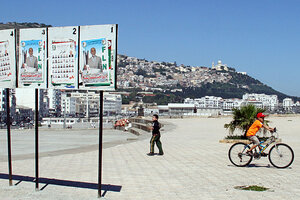 Paul Schemm/AP
Abdou Bendjoudi, a young pro-democracy campaigner in Algiers, has just drafted a novel about a woman's decade of misery, including rape, kidnap, and betrayal.
"That woman is Algeria, violated both by the Islamists and the state," Mr. Bendjoudi says.
His novel evokes the country's civil war in the 1990s – a decade of chaos that left Algerians wary of joining the wave of Arab revolt that began last year in Tunisia. While many want to strengthen democracy and fight corruption, few are keen for a mass uprising.
"Algerians are generally angry," says Jon Marks, chairman of Cross-Border Information, a risk-analysis firm in Hastings, England. He cites years of scattered riots, protests, and labor strikes – mainly over economic issues. "But no one wants to return to the 1990s."
For many Algerians, the upheaval around them recalls that violent decade and highlights the risks of fomenting change from below.
In Egypt, which has remained relatively peaceful since Hosni Mubarak's ouster in February 2011, many citizens are upset that the revolution may not result in a free society. The presidential election run-off on June 16-17 will be contested by Mr. Mubarak's last prime minister and a member of the powerful Muslim Brotherhood. For some Egyptians who rallied in Tahrir Square, neither represent the kind of change they were hoping for.
---