Israel moves to improve religious freedom – for Jews
For the first time, Israel will begin funding rabbis from the Reform and Conservative movements, which have long been shut out in a country dominated by Orthodox Judaism.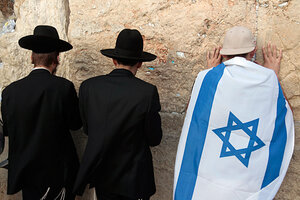 Darren Whiteside/Reuters/File
Israel has always touted a national respect for freedom of religion in a region where religious intolerance runs high. But ever since its founding, the Jewish state has nonetheless sanctioned discrimination – against Jews.
Orthodox denominations dominate the Israeli Rabbinate, own a virtual monopoly on funding for religious institutions, and have a lock on the clergy overseeing marriage, divorce, and conversions. Liberal movements like Conservative and Reform Judaism have traditionally been shut out.
But last week, in response to a Supreme Court petition calling for equal funding of pulpit rabbis, Israel's Attorney General said that for the first time the state would begin paying salaries of clergy from non-Orthodox denominations. Liberal Jewish groups hailed it as a landmark in the campaign for wider pluralism, even though the Orthodox religious monopoly on the state-funded rabbinate is still intact.
"We've cracked the ceiling. This will merely be the beginning. It will cause a snowball," says Steven Beck, an official at the Israel Religious Action Center which first brought the petition seven years ago and plans to mount new legal challenges with last week's decision. "Finally in Israel Jews will be as free to practice their religion as they do elsewhere."
Alienating Americans?
At stake is not just competition for the hearts and minds of the Jewish faithful in Israel, but also efforts to shore up US-Israeli ties. The unequal treatment of Jewish denominations could help erode Israel's relationship with US by spurring alienation among American Jews, many of whom identify with Reform and Conservative denominations, say experts and Jewish groups.
---