Along Syria's volatile border, rebels, rabbits, and ambushes
A Lebanese gas smuggler was killed in a Syrian Army ambush this week, snapping the patience of locals in the Lebanese town of Arsal. Another ambush targeted rabbit hunters.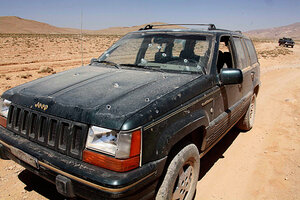 Mohamed Azakir/Reuters
Mohammed Hamade, a resident of this remote town in northeast Lebanon, took a great risk this week to try to drive into Syria and smuggle diesel fuel back into Lebanon. But he never made it to the border. He was killed just inside Lebanon in a Syrian Army ambush – an incident that spurred a serious armed clash between the soldiers and furious residents of this Sunni town, which has become a bedrock of support for the opposition to Syrian President Bashar al-Assad's regime.
"What happened to Hamade is only the latest example of Syrian forces coming into Lebanon and killing our people," says Ali Hujairi, the mayor of Arsal.
Mr. Hamade was not the first resident of Arsal to die at the hands of Syrian forces in the past year. But amid a surge in violence along Lebanon's northern border over the past six weeks, his death snapped the patience of a people who live by rigid tribal rules and have scant respect for the authority of a Lebanese state that they claim has long ignored their needs.
The Lebanese government, which is composed mainly of allies of Damascus, has adopted a policy of disassociation with the crisis in Syria. It has been reluctant to voice strong criticism of cross-border shootings by Syrian troops, abductions of Lebanese, citizens and Syrian army incursions into Lebanese territory, especially in the unpoliced barren wilderness east and north of Arsal where only a few goat herders live in scattered dwellings.
---