Iran nuclear talks are on, but both sides frustrated, say diplomats
Two diplomats close to the Iran nuclear talks – one Iranian and one European – explain the concerns of their respective sides ahead of June 18-19 talks in Moscow.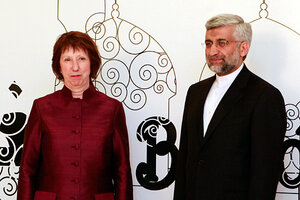 Hadi Mizban/AP/File
The wide gap that remains between Iran and world powers over Iran's nuclear program is being filled by a diplomatic blame game, a week before talks are due to resume in Moscow.
Expectations that this third round of talks might be delayed were put to rest tonight during an hour-long telephone conversation between Iran's top nuclear negotiator Saeed Jalili and EU foreign policy chief Catherine Ashton.
The call came amid increasingly acrimonious exchanges that illustrate the stark challenges that remain to a negotiated solution between Iran and the P5+1 group (comprised of the US, Russia, China, England, France and Germany) represented by Ms. Ashton.
The two "agreed on the need for Iran to engage on the [P5+1] proposals, which address its concerns on the exclusively peaceful nature of the Iranian nuclear program," said a statement from Ashton's office.
"She also conveyed the [P5+1's] readiness to respond to the issues raised by the Iranians in Baghdad," said the statement. Ashton gave an "update" to Mr. Jalili on the conclusions of her meeting today with P5+1 officials to "discuss the way forward for the Moscow talks."
---