Turkey's culture wars heat up after PM equates abortion with murder
Turkish Prime Minister Recep Tayyip Erdogan has vowed to effectively ban abortions. It's the latest signal his party aims to shape Turkey's secular political system along more religious lines.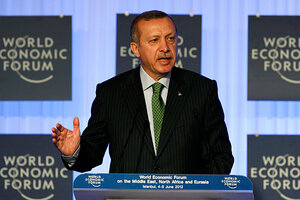 Osman Orsal/Reuters
Obstetrician Ayse Akin fought for 13 years to legalize abortions in Turkey after seeing dozens of women die trying to perform them on themselves.
"It was shocking," she recalls. "They used chemicals from match tips, soap, or feathers. In one week alone at my hospital we had three fatal cases of self-induced abortion."
Now, 29 years after she achieved that goal, she is preparing to resume the fight amid signs that the Islamist-rooted government intends to effectively outlaw it once again.
She's not alone.
Thousands of women have protested across the country since Prime Minister Recep Tayyip Erdogan last month denounced abortion as "murder," vowing to revise the current law allowing termination in the first 10 weeks of pregnancy.
"There is no difference between killing a baby in its mother's stomach or killing it after birth," Mr. Erdogan said on May 25, in the first of a series of condemnatory speeches.
His unexpected campaign against abortion has opened a new chapter in a simmering culture war between secular, Westernized Turks and the pious majority that forms Erdogan's base.
"He's launching a new front in the culture war and I think politically this will serve him, because a majority of the country is probably against abortion," says Mustafa Akyol, a newspaper columnist and author of Islam Without Extremes: A Muslim Case for Liberty.
Media reports suggest the government may set a new limit of four weeks, when many women may not know they are pregnant.
Molding Turkey along more religious lines
---