In Tunisia's sentencing of a dictator, a model for bringing justice?
A Tunisian court yesterday sentenced Ben Ali to life in prison. The country's efforts to bring former regime members to justice could offer lessons for other Arab Spring countries.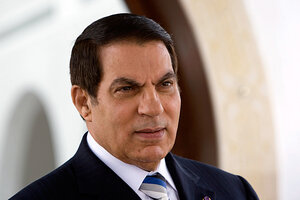 Jacky Naegelen/Reuters/File
On Jan. 13, 2011, Taher Merghni was peddling home from his job building sidewalks when he was thrown to earth by a policeman's bullet, says his sister, Mounira Merghini.
"He was just a working man," she says. "Working day and night to feed his children."
Caught between police and rioters, Mr. Merghni became one of 132 people killed during the uprising that brought down the regime of former president Zine El Abidine Ben Ali and started a wave of Arab revolt.
Like other countries emerging from dictatorship, Tunisia now faces the delicate process of transitional justice: holding accountable those responsible for crimes while uncovering the truth about how – and why – they occurred. That could offer lessons for Arab Spring countries such as Egypt and Libya, where the fall of dictators offers a chance to lay history bare.
"Tunisia is basically doing the right thing, and I hope will serve as a model," says Claudio Cordone, Program Director at the International Center for Transitional Justice, a New York-based NGO that is advising the Tunisian government.
Yesterday a military court in Le Kef, 106 miles west of Tunis, sentenced Mr. Ben Ali in absentia to life in prison for conspiring to murder protesters in two rural cities. In addition, a dozen security officials got up to 15 years in prison and nine were acquitted. A military court in Tunis is trying Ben Ali and some of the same security officials for the deaths of protestors there.
---