In southern Yemen, Al Qaeda leaves overnight
The Yemeni government took credit for clearing two strongholds of Al Qaeda-linked militants. Locals credited armed tribesmen though, and warned the fight is far from over.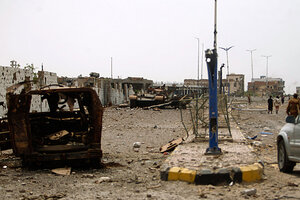 Khaled Abdullah/Reuters
Almost as suddenly as Al Qaeda-linked militants swept into the southern Yemeni towns of Jaar and Zinjibar more than one year ago, they disappeared, say residents who awoke Tuesday morning to find them gone.
Early Tuesday morning, military officials said, an unprecedented offensive by the Yemeni military prompted Ansar al-Shariah militants to retreat from their positions, allowing the government to regain control of the towns for the first time in nearly a year. An odd calm held in both towns, and in their agricultural environs, farmers continued to work their fields, seemingly indifferent to the momentous changes of the past days.
This marks the biggest gains yet in Yemen's offensive against the militants, in which government troops, backed by local tribesmen, have pushed the Al Qaeda-linked fighters out of much of the province.
But as soldiers celebrated and some residents expressed some cautious hopes for the future, many stressed that, despite the seeming progress, the return of government control was far from guaranteed and that the end of the battle against Al Qaeda and their affiliates in Yemen was far from over.
Many militants fled to other strongholds
Senior government officials openly acknowledged that the bulk of the militants were able to escape to remaining strongholds to the east. And even if many civilians said they welcomed the withdrawal of Ansar al-Sharia and appeared to accept the Army's presence, many in the province remain deeply ambivalent about the prospect of living under the rule of Yemen's central government. A minority remain sympathetic to the militants.
Separatist sentiments run high throughout region, where the central government has not traditionally had full control, and many of the tribal fighters that joined the government in the battle against the militants openly advocate for the secession of South Yemen, an independent country until 1990. Many have cautioned that, absent substantive improvements in locals' living conditions, towns like Zinjibar and Jaar could once again erupt in violence, rendering the recent gains superficial.
---