Muslim Brotherhood's Morsi becomes Egypt's first civilian president
The Muslim Brotherhood's Mohamed Morsi was declared Egypt's first civilian president since the monarchy was overthrown in 1952. But he will share power with a military suspicious of his 84-year-old Islamist organization.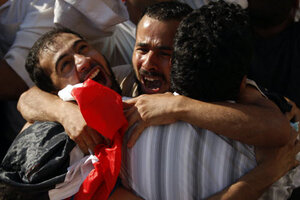 Khalil Hamra/AP
The Muslim Brotherhood's Mohamed Morsi will be Egypt's first civilian president in a historic victory for an 84-year-old organization that was banned and oppressed under the former regime just a year and a half ago.
Morsi supporters in Tahrir Square erupted in wild cheers when election officials announced that Morsi won the race with 51.73 percent of the vote, narrowly beating his opponent Ahmed Shafiq, the last prime minister under Hosni Mubarak, who was pushed from power during a popular uprising against his regime in February 2011. Outside the square, cars honked and Egyptians set off fireworks to celebrate their first freely elected president.
Yet the moment that should have ended Egypt's tortuous transition from military rule to civilian government is bittersweet: the generals who have ruled Egypt since Mubarak's ouster have limited the authority of the incoming president, and will hold significant influence after he takes office, setting the stage for a prolonged battle to bring about a true transition to civilian rule.
---