In Israel, a push to learn Arabic
The current decline in the study of Arabic in Israeli schools could compromise coexistence efforts and the military's ability to gather intelligence. But one program is countering that trend.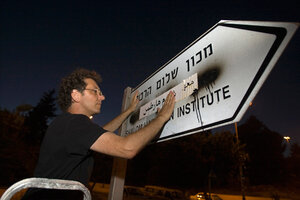 Baz Ratner/Reuters
Arabic teacher Essam Shihada's casual dress – sneakers and a Mickey Mouse T-shirt – contrasts with the seriousness of what he is trying to do: endear Israeli Jewish pupils to the study of the ''enemy's language.''
A few minutes after fielding questions from Mr. Shihada and each other about how many siblings they have and where their parents work, the class of Israeli youngsters is enthusiastically singing the words of an ancient Arabic folk song about harvesting olives. ''God, bless the olive trees. The olives of my land are especially delicious. They give fine oil. All the world wants to eat them,'' the two dozen children intone.
The singing is a major achievement in a land where Arabic and its speakers are often viewed with suspicion and where instruction of the language is widely seen as being in decline, with a shortage of qualified teachers and few students choosing to take it for their high school matriculation exam.
Despite Arabic being an official Israeli language alongside Hebrew, most Israelis can neither read nor speak it competently, if at all – a situation that critics of government education policy say hinders coexistence prospects with Israel's sizable Arab minority and could hinder the military's intelligence-gathering efforts.
Israel is only beginning to come to terms with the problem.
'Many Arabic teachers don't know how to speak or write Arabic'
The Israel Academy of Sciences recently issued a report detailing Arabic teaching deficiencies, concluding among other things that making the language a matriculation requirement is necessary to redress the situation. The academy's report said only a few Arabic teachers were native speakers.
---