In Tunisia, leaders struggle to kick the problems that toppled Ben Ali
Rioting broke out in Tunisia earlier this month after rumors that a local art exhibit insulted Islam. But most of the protesters were not ultra-religious – just young, poor, and angry.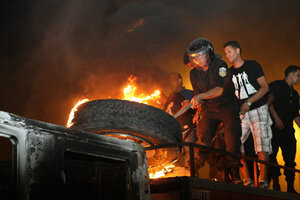 Amine Landoulsi/AP
One balmy evening in Tunis three weeks ago, a young man named Redouan and several friends piled into a car and headed for a nearby art exhibit, intent on burning paintings.
"We'd heard the paintings insulted Islam," he says. "When we arrived there was already a crowd outside – and lots of police."
By then the exhibit had already been ransacked by deeply conservative Salafi Muslims like Redouan. The vandalism triggered days of rioting in Tunis and other cities. Although some of the rioters were Salafis, most appear to have been simply young, poor, and angry.
It was the latest in a series of protests, riots, and labor strikes since Tunisians ousted dictator Zine el Abidine Ben Ali last year. The disturbances highlight the new stakes of an old problem: chronic economic malaise that leaders now fear could endanger Tunisia's emerging democracy.
Similar problems face Tunisia's Arab Spring peers, Egypt and Libya. In all three, youth unemployment, corruption, wealth gaps, and under-development helped fuel uprisings that toppled dictators. Those leaders are gone, but the economic problems that led to their downfalls persist.
"We're not forecasting a second revolution in any of the three countries," says William Lawrence, lead North Africa analyst for the International Crisis Group (ICG), a Brussels-based NGO. "But a combination of bad economic trends and poor political process could create a crisis of legitimacy in any one of them."
---