Iran makes its nuclear case – with PowerPoint
The complete set of PowerPoint slides that Iran used during a meeting with world powers are now public.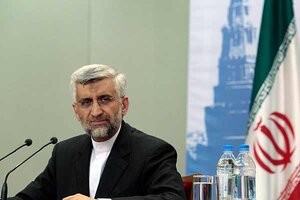 Sergei Karpukhin/Reuters
Newly published PowerPoint presentations, originally presented by Iran at the most recent high-level nuclear talks with world powers, lay out a maximalist opening position that appears to offer little room for compromise over Iran's controversial nuclear program.
In slide after slide, the Islamic Republic justifies the most sensitive aspect of its work that world powers are demanding be stopped: uranium enrichment to 20 percent – which is a few technical steps away from bomb-grade material – at a deeply buried facility called Fordow.
The presentations, first made in Moscow last month, show how hardline positions staked out in public, as well as uncompromising rhetoric from politicians about the nuclear talks, translates into negotiating points.
And while there have been strong hints from Iran – at the negotiating table, Iranian officials say, and in public – that it would cut a deal on 20 percent enrichment, the PowerPoint slides shown in Moscow are a tough rejoinder to the equally tough opening demands made by the P5+1 group (the US, Russia, China, Britain, France and Germany) in Baghdad in May.
---