Another day, another defector from Assad's Syria
The Syrian ambassador to Iraq defected today, the second prominent Sunni to do so in two weeks. With their departures, Syria's Sunni vs. Alawite conflict hardens.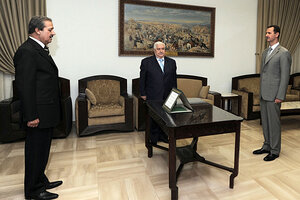 SANA/AP/File
The defection of another senior Sunni Syrian official in a week is a further signal of growing unease on the fringes of the Alawite-dominated regime of Syrian President Bashar al-Assad. But the core of the regime appears to remain united and shows no sign of imminent collapse, suggesting that the confrontation will become more protracted and take on a harder sectarian edge in the weeks and months ahead.
Nawaf Fares, who had served as Syria's ambassador to Baghdad since 2008, yesterday announced his resignation from the ruling Baath Party and said he was joining the opposition to the Assad regime.
"I call on all party members to do the same because the regime has transformed it into a tool to oppress the people and their real aspirations to freedom and dignity," he told the Al Jazeera Arabic after traveling to Qatar.
In response, the Syrian foreign ministry said that Mr. Fares had been "discharged" for making statements "that are in contradiction with his duty," adding that he could be prosecuted and subjected to "disciplinary action."
Fares, a Sunni, is the head of the powerful Uqaydat tribe that straddles the Syria-Iraq border. He is also a former governor of Deir ez Zour, a large town in eastern Syria where regime and opposition forces regularly clash.
---