For region's Islamists, Morsi win in Egypt expands sense of the possible
Egypt's Muslim Brotherhood, which now controls both the presidency and much of parliament, has counterparts and allies across the region who are expecting President Morsi to bring change.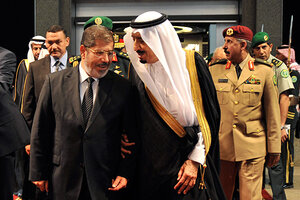 HOPD/Egyptian Presidency/AP
Just a year and a half ago, Mohamed Morsi was a member of a banned organization, arrested in his home as protests swelled against then-President Hosni Mubarak. Yesterday, he made his first official visit abroad as president of Egypt. (Editor's note: This sentence has been edited to correctly state the day of President Morsi's visit.)
President Morsi chose as his first destination Saudi Arabia, a Mubarak ally that strongly disapproved of the uprising that ousted him. Morsi is seeking to preserve Egypt's longstanding ties with Saudi, even though the monarchs there harbor deep suspicion of the Muslim Brotherhood, the Islamist movement that nominated Morsi as a candidate.
Yet some observers expect that Morsi – Egypt's first Islamist president – will bring changes not only in Egypt's relationship with the Gulf heavyweight, but with the rest of the region. While Egypt's military retains extensive power and remains a strong force for the status quo, the ripple effects of Morsi's rise will be felt across the Middle East, both symbolically and practically.
Morsi's win holds symbolic value for Islamist groups, says Michael Hanna, a Middle East analyst at the New York-based Century Foundation. "It validates in a very big way the turn to organized politics by Islamist groups and it obviously marks a moment of ascendance," he says. "It probably sets a benchmark for the other Muslim Brotherhood affiliates and Islamist groups in the region … in terms of their expectations. It expands the notion of the possible."
---