Israel to Clinton: Tell us what Egypt is thinking
US Secretary of State Clinton is in Israel after meeting with new Egyptian leader Mohamed Morsi. Israel is hoping Clinton will shed some light on how to repair frayed Israel-Egypt ties.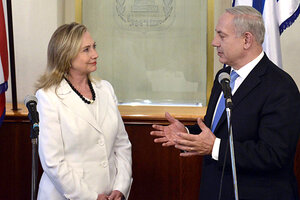 Brendan Smialowski/AP
US secretaries of state usually devote their visits to the region shuttling between the Israelis and Palestinians, but as Hillary Clinton began her one-day stopover today, the focus is on two countries needing US mediation: Israel and Egypt.
Instead of filling the diplomatic vacuum that has existed since former leader Hosni Mubarak was ousted in 2011 and bolstering ties between the two neighbors, the recent election of the Muslim Brotherhood's Mohamed Morsi to the presidency has only exacerbated Israeli anxiety about an erosion in the countries' 33-year peace deal.
Israel, which has so far been unsuccessful at engaging Egypt's new political establishment, is hoping that Mrs. Clinton will shed light on whether Mr. Morsi plans to press for revisions to the longstanding, stable Israel-Egypt treaty, which is unpopular among the Egyptian public. Clinton preceded her Israel visit with a stop in Cairo, where she met with Morsi.
---