Ex-Israeli diplomat: Boycott my country
Former Israeli ambassador to South Africa Alon Liel argues that a boycott would put pressure on people and businesses, possibly persuading some to relocate inside Israel proper.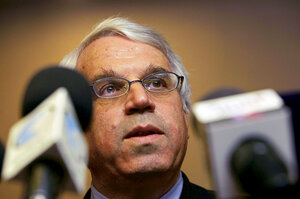 David Silverman/Getty Images/File
Alon Liel is a former Israeli ambassador to South Africa and former director general of the Israeli foreign ministry. But when his former office harshly criticized South Africa for enabling a consumer boycott of exports from West Bank settlements in May, Mr. Liel's response sharply diverged from the party line.
In a commentary published in Business Day, a South Africa daily, he sided with the South African government, rejecting the foreign ministry's contention that encouraging the boycott constituted a "racist" policy. With his very public break with government policy, Liel became the rare former senior official to encourage such a boycott.
A consumer boycott serves to reassert the existence of the West Bank border, which Liel argues has been blurred in Israelis' minds by the establishment of Israeli settlements.
"The simple act of marking settlement products differently to Israeli products pulls the rug from under the refusal to declare a border," he wrote. "I buy Israeli products every day and do my best not to buy Israeli products from the Occupied Territories. I don't see why you, living outside Israel, shouldn't have the same choice."
Liel also added his name to a petition by more than 1,000 Israeli academics calling for a local academic boycott of the Ariel University Center. The petition alleges that the school is a vehicle of Israel's right-wing government to make Israel's presence in the West Bank a permanent one, risks an academic boycott of Israeli universities, and calls on AUC students and faculty to transfer to institutions in Israel proper.
---