Yemen's power vacuum could provide window for secessionists
Many southerners never fully bought in to the unification of Yemen, made official in 1990, and they see the current political uncertainty as an opening to push for independence.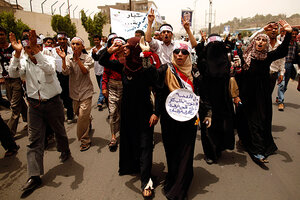 Khaled Abdullah/Reuters
In the former southern Yemen capital of Aden, secessionist leaders who once served jail terms for their political activities openly lead demonstrations, while the pre-unification flag, once forbidden, is a nearly constant presence in the sweltering city's streets.
Yemen's Southern Movement has emerged defiantly from the power vacuum caused by last year's uprising against former President Ali Abdullah Saleh. Though the Yemeni government and the bulk of the international community still see Yemen's continued unity, forged in 1990, as nonnegotiable, many emboldened separatists increasingly feel they're on the verge of restoring their independence.
And while the leaders of this divided movement stress that they're committed to waging a peaceful struggle, some are quietly raising the specter that long-festering wounds dating from Yemen's unification could doom the country's post-Saleh transition.
Though both sides hailed it as a triumph at the outset, the optimism that followed the 1990 unification of the socialist People's Democratic Republic of Yemen (PDRY) and the northern Yemen Arab Republic (YAR) was short-lived. Barely four years after unity was declared, building tensions erupted into a north-south civil war, briefly threatening to tear the new country apart. The fighting ended with a decisive victory for northern pro-unity forces and the exile of the bulk of the south's leadership.
Military defeat, however, failed to eradicate southerners' grievances, and as northern elites strengthened their grip on the south, feelings of alienation from the central government only continued to grow.
---