On Syrian border, artillery thumps in shadows of medieval castle
Syrian rebel fighters have taken refuge in an old crusader castle and villages on the Lebanese side of the border, drawing Syrian Army fire.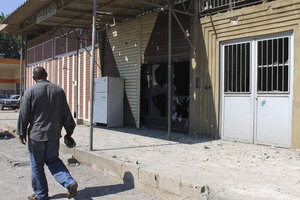 Roula Naeimeh/REUTERS
Nourat al-Tahta, north Lebanon
A string of Sunni-populated villages along Lebanon's northern border with Syria has turned into an active war front, with Syrian rebel fighters using the area as a de facto safe haven. Their presence draws nightly bombardments from the Syrian Army, posing a security dilemma for the Lebanese government.
At least four civilians have been killed and several more wounded since the nightly Syrian artillery bombardments began more than a week ago, targeting an area of some 32 square miles between this small village and the Wadi Khaled district 12 miles further east. Each night, the targeted Sunni villages empty as residents flee for safer areas away from the border.
"We are poor. We have no money. We are neglected by the government. And now the Syrian shelling has turned us into refugees in our own villages," says Ahmad, a gaunt-faced, lanky farmer in his early 40s who lives in Nourat al-Tahta.
The border with Syria lies less than a mile north of Ahmad's house. Here it follows the Kabir River, a shallow waterway that meanders through a steep wooded valley which provides some cover for Syrian civilians fleeing the violence in their homeland and for members of the rebel Free Syrian Army to slip in and out of the country at night.
---