Amid Olympics glee, Israeli 'Munich Massacre' families request moment for grief
Families of the 11 Israelis killed at the 1972 Munich Olympics are campaigning for a moment of silence at the opening ceremony, but Olympics organizers have so far refused.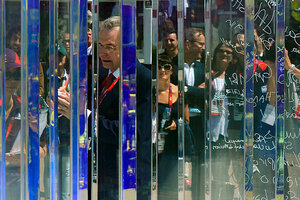 Toby Melville/Reuters
The run-up to each Olympic Games is a time of anticipation and excitement for athletes, organizers, and fans worldwide. But for families of the 11 Israeli athletes and coaches slain 40 years ago at the Munich Games by an arm of the Palestine Liberation Organization, it is also a period of struggle and grief.
The families have worked for more than 35 years to commemorate the former Olympians at the Games, and this year, the 40th anniversary of the so-called Munich Massacre, their calls for a moment of silence at the opening ceremony have finally gained considerable support. Yesterday Jewish legislators from the United States, United Kingdom, Canada, Brazil, and other countries wrote International Olympic Committee (IOC) President Jacques Rogge, urging a "moment of mercy" for the slain athletes at the opening ceremony. Even President Barack Obama and Republican challenger Mitt Romney have backed the call.
However, Mr. Rogge has stuck to his insistence that such a moment is not appropriate for the opening of the Games. "We feel the opening ceremony is an atmosphere that is not fit to remember such a tragic incident," he said at a recent press conference.
---