Egyptian president names unknown as next prime minister
That Egyptian President Morsi chose an obscure former government minister for the post, which he promised to fill with an independent, likely indicates he had a hard time finding a willing taker.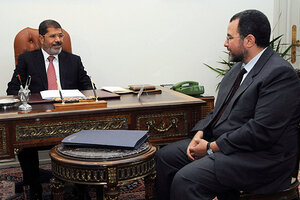 Ahmed Mourad/Egyptian Presidency/AP
President Mohamed Morsi named Hesham Kandil, a relatively young and unknown minister in the previous government, as Egypt's new prime minister today, more than three weeks after Mr. Morsi took office.
The delay in naming a prime minister, as well as Mr. Kandil's relatively obscure background, hint at the president's difficulty in finding someone who was both an independent figure and also willing to take on leadership of Egypt's cabinet at a time of economic hardship and political polarization.
The appointment of Kandil, minister of water resources and irrigation in the outgoing cabinet, came as a surprise; weeks of speculation have focused on figures with backgrounds in economics or banking. Kandil was appointed to head the ministry last year, after a career in the public sector dealing with water issues. He has also worked on water resource issues for the African Development Bank.
Before he was announced the winner of a divisive election, Morsi gained the support of some non-Islamist pro-revolutionary figures by promising to appoint an independent prime minister and avoid a cabinet dominated by Muslim Brotherhood figures. One of them was Shadi el-Ghazali Harb, a member of a coalition that served as an intermediary between the protesters in Tahrir and the government during and after the uprising.
Mr. Ghazali Harb says Kandil's appointment appears to keep that promise, but noted that he will wait until a deputy prime minister, vice president, and the rest of the cabinet are appointed to render a verdict.
"Our first recommendation was a strong political figure to lead the cabinet," says Ghazali Harb. "But even if there was a tendency to choose a technocrat, we thought an economic background offers a better choice for a candidate for this position because of the economic problems that we're suffering from. But choosing someone from a totally different background – whatever his experience and whatever his performance in his ministry – it does raise a lot of question marks."
---