Aleppo short on weapons, medical supplies as Syria's next big battle looms
The expected Syrian government offensive hasn't begun in earnest, but Aleppo's rebel-held neighborhoods are being pounded by shelling and gunfire and clinics are filling up with wounded.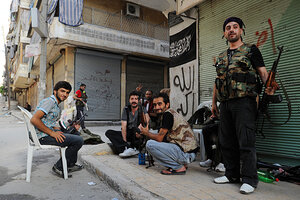 Scott Peterson/The Christian Science Monitor/Getty Images
Shouting men rushed the wounded rebel fighter, prone on a stretcher, into a makeshift emergency ward tonight at dusk after shrapnel from a Syrian government mortar shell tore through his leg.
"You see?" asked Abu Hassan, another rebel from the Free Syrian Army (FSA). "Tell your country to do something, anything!"
Shortly afterwards, another man – a plumber shot in the leg by a Syrian government sniper – was brought in.
Tensions are high in Aleppo, Syria's second city, where rebel commanders are expecting at any moment a powerful government offensive to reverse the past week's rebel gains, as happened in Damascus, where regime forces reclaimed the capital from the rebels with firepower and lethal street battles.
The battle for control of Syria's northern economic hub and largest city will likely shape the fate of the 17-month uprising against President Bashar al-Assad, which has so far consumed 17,000 lives, according to some of the highest estimates. Losing Aleppo to the rebels would demonstrate severe government weakness.
Eighty Syrian government tanks are believed to have arrived at the Aleppo battlefront on the western flanks of the city. Today helicopters circling overhead fired repeated bursts into rebel-held districts for most of the day, causing six deaths. Government snipers claimed two more lives today, according to rebels in Aleppo.
"The FSA is ready – we have many explosives and roadside bombs," says Abu Mhio, an FSA officer in one Aleppo district. Tanks already deployed in Aleppo have not been used, he says – only artillery, from a distance – but their use is "only a matter of time, we don't know when."
---