With Romney visit, Israelis worry about becoming a partisan issue
Presidential challenger Mitt Romney is promising to give Israel a freer hand with Iran while President Obama announced $70 million in additional military aid to the country.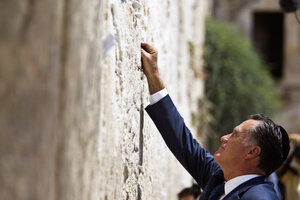 Nir Elias/Reuters
Mitt Romney's visit to Jerusalem on Sunday prompted an escalation in the competition among candidates to demonstrate who's a stronger supporter of the Jewish state.
The campaign of the Republican nominee portrayed itself as more aggressive against Iran and more willing to give Israel a free hand in a potential attack than the Obama administration. Meanwhile, the president on Friday announced $70 million in additional military aid to help develop a rocket system to intercept missiles from Gaza and Lebanon.
The high profile battle surrounding the state of ties between the allies has inserted Israel into the campaign as never before. But Israeli officials and analysts are anxious about that spotlight, and would prefer to be more of an afterthought. That's because an election debate over Israel could damage long term ties between they countries by risking the Jewish state's long cultivated bipartisan support in Washington.
"We don't want to be part of the issue," says an Israeli diplomat, who was not authorized to speak. "We have very strong bi-partisan support and we want to keep it that way. We want there to be strong relations with the US. Not with blue or red."
---