Syrian opposition's volunteer medics keep working, despite death threats
The Syrian regime made an example of three volunteer medics by torturing and killing them. But its attempt to intimidate has only emboldened the ranks of Aleppo's opposition.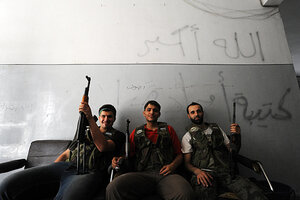 Scott Peterson/The Christian Science Monitor/Getty Images
After midnight in a rebel field hospital in Aleppo, the rush of casualties eased long enough for one volunteer medic to speak his mind about the risks he and his colleagues were taking.
"Do you know what is the punishment for doctors and nurses working here?" the Syrian asked, knowing that his answer would shock. "They burn them."
It was an extreme example of regime brutality, but one that still resonated in the halls of this makeshift frontline clinic, like the echo of artillery shells that landed throughout the neighborhood.
Three Aleppo University students, who had been helping treat demonstrators shot by Syrian security forces, were arrested at a checkpoint in mid-June. Their mutilated and charred bodies were found in a burned out car a week later.
If the regime intention was to shock, it worked – other doctors, nurses and volunteer student medics were horrified by the gruesome fate of their friends. But if the intention was to intimidate them, it backfired, they told the Monitor. The brutal punishment instead redoubled their commitment to serve.
It was a costly miscalculation for the regime. Since the killing of Basel Aslan and Musab Barad, both fourth-year medical students, and Hazem Batikh, an English literature student and medic, the protests in Aleppo have evolved into the frontline of Syria's anti-regime uprising. And those health workers, motivated partly by the loss of their friends to regime loyalists, are now working in field hospitals in swathes of the city under rebel Free Syrian Army control.
---