Syria's iPhone insurgency makes for smarter rebellion
The prevalence of smart phones and other technology has allowed Syria's rebels to undermine state media reports and rally supporters, in Syria and abroad, with evidence of regime atrocities.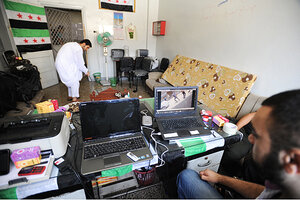 Scott Peterson/The Christian Science Monitor/Getty Images
News from the Aleppo frontline sounded good: Syrian rebels had expected the enclave under their control might be overrun by superior government forces, but instead they stopped the advance and knocked out several armored vehicles, leaving dead Syrian troops on the road.
But were those reports real?
The answer came within an hour, a couple blocks from that fight in the embattled Salaheddin district, when a rebel in civilian clothes appeared with a beaming smile and a small video camera.
His footage clearly showed a smoldering hole in a Syrian armored personnel carrier, and several uniformed soldiers lying dead in the road, where they had taken up firing positions.
"He's a hero!" sang one rebel fighter about the cameraman, who faced sniper fire from Syrian forces to get the shots.
Like so much of the combat footage of this 17-month uprising against the rule of President Bashar al-Assad, this was taken by a rebel activist to be loaded onto YouTube.
Forget the image of anti-regime guerrillas holed up in some remote trench, cut off from the world as they battle government forces. This fight has been defined in Syria by endless images shot by mobile phone and volunteer videographers who know the importance of winning the media war.
Every fighter seems to have at least one mobile phone, used to speak with families, Skype girlfriends, and even advise Syrian soldiers how to defect to the opposition. Some note the difference a generation can make to the fate of their challenge against the government – and providing video evidence of atrocities and war crimes that are corroding the legitimacy of the regime.
---