Syrian Army pushes to break rebel frontlines in battle for Aleppo
The Syrian Army deployed planes and a helicopter gunship as it targeted rebel positions in Aleppo, a key city in Syria's civil war. Fighting also intensified in Damascus Saturday.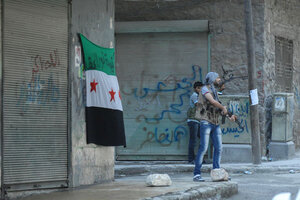 Scott Peterson/Getty Images
Syrian artillery, planes and a helicopter gunship pounded rebel positions in Aleppo on Saturday, witnesses said, as President Bashar al-Assad's forces tried to break through the insurgents' frontline in Syria's largest city.
Syrian forces clashed with rebels around Aleppo's television and radio station, activists said, and a local rebel commander said his fighters were preparing for a "strong offensive" by government forces on the city.
In the capital Damascus, troops backed by armor stormed the last opposition bastion on Friday in a drive to crush a rebel offensive that coincided with a bombing that killed four of Assad's senior security officials. The onslaught continued on Saturday as jets bombarded the city, a resident said.
Syrian forces battered Aleppo's Salaheddine district, seen as a gateway for the Army into the city of 2.5 million people. The fate of the district could determine the outcome of a conflict that has already claimed some 18,000 lives.
"There is one helicopter and we're hearing two explosions every minute," a Reuters witness said.
The civil war has intensified in the past few weeks, with fighting engulfing Damascus and Aleppo for the first time in the 17-month-old uprising against Assad family rule.
The two cities are crucial prizes for both sides in a conflict that has eluded all attempts at a diplomatic solution and risks igniting a wider conflagration.
---