Accusations of war crimes rob Syrian rebel fighters of moral high ground
Human rights organizations have both condemned Syrian rebels' turn to kidnappings and executions. The change in tactics could jeopardize international support for the Free Syrian Army.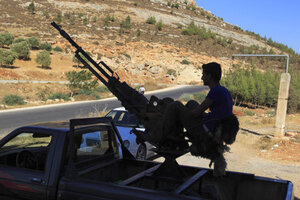 Zohra Bensemra/REUTERS
Syrian government forces have borne the brunt of international condemnation of violence in Syria, but with the strengthening and militarization of the opposition, accusations of human rights abuses and war crimes are now falling on the rebel Free Syrian Army (FSA) as well.
Amnesty International has been among those raising questions about the actions of the FSA. "While the overwhelming majority of crimes continue to be committed by the Syrian security forces, serious abuses including war crimes by some members of armed opposition groups, including the FSA, are also on the rise, particularly in the province of Aleppo," the human rights organization reported this week. The Obama administration has also been vocal in its criticism.
Opposition members are worried the charges will ruin their relationship with international partners who have been providing critical funds, weapons, and other types of support. The specifics of many of the charges cannot be independently verified, but opposition leaders on the Jordanian border admit that recent events, including the execution of government soldiers and the kidnapping of Iranian pilgrims, point to rising brutality by the rebels.
Kidnapping – of both civilians and regime forces – is the most common allegation made against the FSA. Rebels are reportedly demanding money from family members in exchange for releasing the hostage. Syrian refugees on the Jordanian border say that family members connected to the Assad regime have disappeared, and they assume that opposition groups such as the FSA are responsible.
---