Amid squalor and fear on Turkish border, Syrians make plea for safe zone
So many Syrians have shown up along the Turkish border, hoping to cross and enter a refugee camp, that Turkey is calling on the international community to create a safe zone for them inside Syria.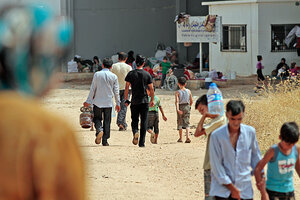 Javier Manzano
In this camp that has sprung up along the Turkish border, 5,000 Syrians who have fled their country's civil war live under covered vehicle lanes on an unfinished section of the Syrian border, waiting to cross into Turkey or return to their homes. Sleeping out in the open on asphalt and scrounging for clean water, they hope that they will be allowed into Turkey, where they can find a truly safe haven in an established refugee camp.
But Turkey, overwhelmed by a surge of Syrian refugees, is instead expected to call on the United Nations today to create a safe zone inside Syria to stem the tide coming over the border.
A safe zone along the border would offer Turkey a place to redirect refugees, but a number of political complications make the formation of such an area unlikely – a reality all too familiar for thousands of beleaguered Syrian refugees unable to enter Turkey or escape the violence in Syria.
"The safe zone is a dream. It will not happen. The world is against us," says Abdul Qadir Haj, a former Syrian policeman who fled to a camp near the Bab al-Salama border crossing into Turkey, a short drive from Aleppo. The camp is now home to about 5,000 refugees.
In just the past two weeks, the refugee issue has exploded in Turkey and Jordan, the other major recipient of Syrian refugees. Previously Turkey received about 400 to 500 Syrians each day, but those numbers have recently climbed to as many as 5,000 per day, according to the UN.
Some 80,000 refugees are now in Turkey, and UN officials say those numbers could reach 200,000 if the conflict continues to escalate. Already there are an estimated 2.5 million people inside Syria who need humanitarian assistance and 1.2 million who are internally displaced.
---