Fed up, West Bank Palestinians tell leaders to fix the economy
The Palestinian Authority is on what observers say may be its shakiest ground yet as it faces a monthly $100 million shortfall and a population floundering amid economic hardship.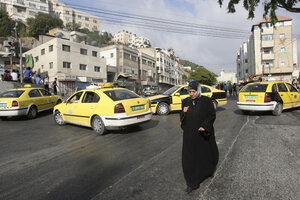 Nasser Ishtayeh/AP
As many as 24,000 Palestinian public transportation drivers launched a strike across the West Bank today, capping a week of public unrest that some say poses a significant threat to the Palestinian Authority – and potentially to Israel.
Palestinians have taken to the streets to protest a spike in prices that has intensified a long-simmering economic crisis. The cost of a carton of eggs has jumped from 12 to 20 shekels ($3 to $5); a box of tomatoes now costs 120 shekels ($30), a six-fold increase; and gas has just topped $8 a gallon.
The Palestinian Authority, which is no stranger to economic crises, is now in particularly dire straits. It is $100 million short each month, and has had to delay paying August salaries, due in part to a sharp drop in aid from Arab donor countries. Locals blame PA mismanagement and corruption, pointing to the stone villas and sleek Mercedes vehicles that have sprouted in Ramallah since the PA took over.
"What happened in Tunisia and Egypt will happen here. We will chase them out," says vegetable grocer Mohammed al-Qatari, tending to a trickle of customers in Ramallah's Al-Amari refugee camp. "I don't want them. I'd rather have the Israeli occupation."
Just up the hill, past two open manholes and the wafting smell of sewage, a roundabout bears the charred pockmarks from protesters burning tires. In the middle stands a crooked olive tree, denuded of almost all its branches, with just a few leaves.
---