Killing Yemen Al Qaeda's No. 2 is no death blow to the group
The death of Al Qaeda in the Arabian Peninsula No. 2 Said al-Shihri is only a setback for the group, which also recently lost its foothold in southern Yemen.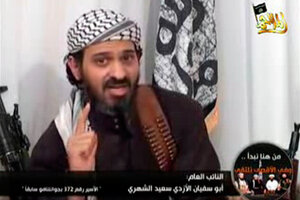 Reuters/File
Less than 24 hours after the Yemeni defense ministry reported the death of Said al-Shihri, Al Qaeda in the Arabian Peninsula (AQAP)'s No. 2, the Yemeni capital shook as a car bomb targeting Yemeni Minister of Defense Mohamed Nasser Ahmed exploded outside the prime minister's office in Sanaa. Editor's note: The previous sentence has been edited to correctly reflect the defense minister's name.
The attack left at least 13 dead, but failed to injure the minister himself. There was no immediate claim of responsibility, but suspicion immediately fell to AQAP, the attack serving as a reminder that despite facing numerous setbacks recently, the Yemen-based Al Qaeda franchise remains a dire threat to this nation's tenuous stability.
Mr. Shihri, the highest-ranking Saudi within AQAP, took part in battles in both Afghanistan and Chechnya before being captured by US forces in Afghanistan in 2001 and put in prison in Guantanamo Bay for six years. Transferred to Saudi Arabia, he was released after going through a government-run "rehabilitation" program in 2008. But within weeks of his release, he joined forces with a number of fellow former Guantanamo detainees, headed south to Yemen, and rejoined the fight, teaming up with Nasr al-Wuhayshi, a former aide of Osama bin Laden who currently heads AQAP. (See a Monitor report on the rehabilitation center.)
---