Questions grow over Iran's influence in Iraq
As Tariq al-Hashemi's death sentence heightens sectarian tensions in Iraq, Shiite Iran's role there is getting more attention, including a potential clerical succession struggle in Najaf.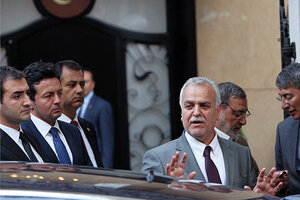 Burhan Ozbilici/AP
Istanbul, Turkey; and Najaf, Iraq
The death sentence issued for Iraqi Vice President Tariq al-Hashemi on Sunday is the latest measure of sectarian division in Iraq, where questions about dictatorial rule and the influence of Iran have grown in the nine months since US troops withdrew.
Mr. Hashemi responded to the verdict by accusing Shiite Prime Minister Nouri al-Maliki – and, obliquely, Shiite Iran – of sowing the seeds of sectarian strife in Iraq. More than 100 people died in explosions and insurgent violence on Sunday alone, one of the bloodiest days since US troops withdrew.
"My people, don't give Maliki and those who stand behind him the chance. They want to make this a sectarian strife. Oppose his conspiracies and provocation calmly," Hashemi said, speaking to journalists in the Turkish capital Monday.
Hashemi – long an opponent of the US invasion of Iraq and nine-year military presence – told the The Christian Science Monitor recently that American forces should return to complete the task of democracy building, because of the "sectarian and unqualified management of Maliki and the trouble-making of Iran."
---