Blasphemy riots: less about theology, more about power plays
Although riots in Egypt and Libya were said to be provoked by a blasphemous portrayal of the prophet Muhammad, Islam scholars say the teachings are ambiguous and co-opted for political ends.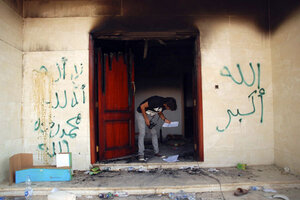 Ibrahim Alaguri/AP
The mobs that killed the US ambassador to Libya and assaulted the US Embassy in Egypt may have been provoked by a blasphemous portrayal of the prophet Muhammad, but Muslim scholars and analysts alike say the attacks have little justification in Islamic theology. Instead, they reflect societies roiled by power struggles and competing ideologies – in which Muslims are used as pawns for political gain.
"The punishment for blasphemy and even the definition for blasphemy is not in the Quran. There are some hadiths that address it, but it's ambiguous," says Nina Shea, director of the Hudson Institute's Center for Religious Freedom in Washington. "So it's very vague and … it's manipulated by those who want to raise a mob and wield power within a society."
She cites other recent examples of blasphemous incidents being exploited for political purposes, including the protests in Afghanistan and Pakistan over Florida pastor Terry Jones burning the Quran, fanned by the Taliban, and a Danish newspaper's denigrating cartoons of the prophet Muhammad, exploited by Arab governments upset with the Bush administration's push for democracy in the Middle East.
---