Consulate attack lifts lid off Libya's security problems
The fledgling Libyan government has been struggling to get armed militias and violent religious hardliners under control for months, but has largely failed.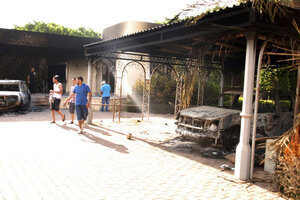 Ibrahim Alaguri/AP
At the center of dismay over the deaths of four Americans in an attack on the US consulate in Benghazi yesterday is a basic question: How could this happen?
Whether the incident that killed Ambassador Chris Stevens stemmed from protests over a film denigrating the prophet Muhammad turned into rocket-fire or was a pre-planned attack disguised by the protests remains unclear. But the attack points to underlying problems: While post-Qaddafi Libya works to build a new state, authorities are struggling to manage militias, weapons, and a surge in violent Islamism.
Tripoli's weakness was laid bare last month when interior minister Fawzi Abdel-Aal said the government would not risk a fight with ultraconservative Salafi Muslims who methodically bulldozed a Tripoli mosque whose graves and Sufi shrines they called blasphemous.
That incident, and others like it, show a growing pattern of armed groups flouting the government, says John Hamilton, a director at Cross-Border Information, a British risk assessment firm. "This pattern needs to be addressed instantly.
Yesterday's attack raises the stakes for the fledgling post-Qaddafi state. A new government to be named in the coming weeks will be hard-pressed to get a grip on security to reassure both Libyans and foreigners.
"The pressure will be immense," says Mr. Hamilton. "Allowing a US ambassador to be killed is about as bad an event as you could possibly imagine."
Containing the threat, not resolving it
The roots of Libya's security woes go back at least to February 2011, when revolt erupted in Benghazi against Muammar Qaddafi. The war that brought down Mr. Qaddafi's dictatorship also delivered much of his arsenal into the hands of local militias.
---