Libyan officials condemn consulate attack, question security
President Obama and the Libyan president and deputy prime minister condemned the consulate attack, but one Libyan official said some blame lies with the US for inadequate security.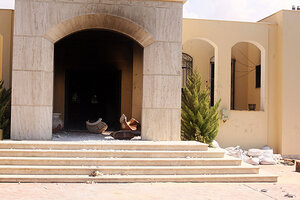 Ibrahim Alaguri/AP
Libyan officials today condemned the attack on a US consulate in Libya yesterday, with interim President Mohamed el Megarif calling the attack "cowardly" and apologizing to the US, vowing to apprehend the killers.
The attack by armed Islamists killed the US ambassador to Libya, J. Christopher Stevens, as well as Sean Smith, an information management officer in the foreign service, and two other Americans who have not been publicly identified. The attack came after media and religious television hosts in the region publicized a film, produced in the US, that mocks the prophet Mohammed.
Mustapha Abushagur, Libya's deputy prime minister, wrote on Twitter: "I do condemn the cowardly act of attacking the US consulate and the killing of Mr. Stevens and the other diplomats." He called Stevens "a friend of Libya" and said the killings were "an attack on America, Libya and free people everywhere."
But Libya's deputy interior minister, Wanis al-Sharif, said in a press conference aired on Al Jazeera that the killings were carried out not by an Islamist group but by members of the former regime of Muammar Qaddafi. He also implied that the US consulate was at fault for not taking adequate security measures.
---