Yemen embassy breach lays bare anti-US sentiment, military weakness
Today's protests in Yemen were called for in response to the infamous anti-Islam film, but they come against the backdrop of continued political instability and rising anti-US sentiment.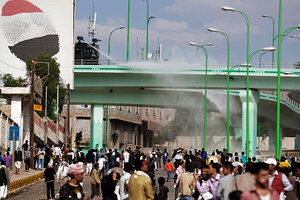 Hani Mohammed/AP
As violent protests against an obscure anti-Islamic film spread to Yemen, parts of the capital of Sanaa erupted, underscoring the continuing instability facing the country and laying bare simmering anti-American sentiments.

A number of Yemeni clerics, including Sheikh Abdul Majid al-Zindani, a leading Sunni religious leader, called for the protests. Participants said they were initially planned as peaceful demonstrations, but as they escalated, some people attempted to lay siege to the US embassy, with some of them clearing the compound's outer security perimeter, despite the presence of Yemeni security forces. Some demonstrators burned cars and smashed the windows of security buildings as they set an American flag on fire.
Yemeni forces were eventually able to repel the attack, which failed to reach the main buildings of the embassy compound, but it took time to disperse the hundreds of demonstrators in the largely youthful crowd shouting defiant chants, vowing to sacrifice themselves to protect the honor of the prophet Muhammad and, in some cases, lobbing rocks at the Yemeni forces trying to hold them back. A tense standoff ensued between protesters and harried troops who launched tear gas and fired warning shots in the air in a scrambled attempt to disperse the crowd, which diminished by early afternoon.
At least 13 demonstrators were wounded and one was reported killed by a stray warning shot. An embassy spokesman confirmed that all members of their staff were "present and accounted for."
---