Libya's rogue militias complicate manhunt for those behind consulate attack
Libyan authorities have thrown their support behind US efforts to track down the perpetrators of the consulate attack, but well-armed militias, possibly backing Islamists, still lie beyond their control.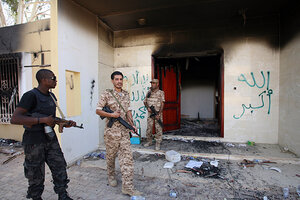 Mohammad Hannon/AP
The hunt is on in Libya for those behind the consulate attack that ended with the death of a US ambassador and three consulate staff, but the government's tenuous control raises questions about US and Libyan authorities' chances of success.
Ambassador Christopher Stevens and three colleagues were killed on Sept. 11 when an angry protest at the US consulate in Benghazi over a film insulting the prophet Muhammad morphed into a deadly rocket attack. It's unclear whether the escalation was spontaneous or orchestrated, as some US officials suspect, and whether security lapses by American or Libyan authorities played a role. Most important, the perpetrators remain unknown.
Determining any of that will be hard, especially amid the challenge posed by Libya's numerous militias, which have a host of competing agendas. The good news for investigators is that most Libyans reject the violent ideology that US officials believe fueled the attack, and are unlikely to shelter its perpetrators. Libyan officials have condemned the attack and shown every sign of wanting to work with the US.
Yesterday Libyan authorities said they had arrested and were interrogating four men suspected of involvement in the attack.
But the fledgling government is vastly outgunned by local militias that arose last year to overthrow Muammar Qaddafi and have since refused to lay down their arms. Tripoli has little choice but to seek their help in keeping the peace.
Some Libyan officials suspect those militias' loyalty. Deputy Interior Minister Wanis Sharif told The New York Times that while the initial assault on the consulate was chaotic, a subsequent attack on a US safe-house appeared planned. He believes the attackers "had infiltrators who were feeding them information."
---