Protests sweep Islamic world, fueled by domestic politics, anti-US anger
Protesters who attacked embassies and clashed with police in at least 17 Muslim countries outraged by more than an anti-Islam video.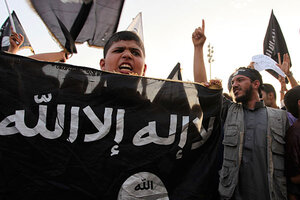 Mohammad Hannon/AP
Anti-American protests continued their sweep across swathes of the Islamic world today, sparked by a low-budget video deliberately denigrating the prophet Muhammad that was made in the US. From Mauritania to Indonesia, protesters took to the streets in anger over the video, which portrays Islam's most sacred figure as a sexually loose and ruthless buffoon.
Yet the protests were about much more than the video. They were a reflection of a deeper, wide-ranging discontent, rooted not only in anger at the US for such things as its pro-Israel policies, drone strikes, and the Iraq and Afghanistan wars, but also in frustration at domestic leaders who have not been able to effect rapid change in the wake of the Arab Spring. Analysts also point to a wider power struggle under way between mainstream Islamic groups and ultra-conservative Salafist elements, believed to be behind the Sept. 11 attack in Libya that killed the US ambassador.
"There is a battle going on for the soul of these states," says Salman Shaikh, director of the Brookings Doha Center, contacted in Qatar. "People are offended [by the movie], but with regard to the Arab world, a lot of it has to do with internal domestic politics between the Muslim Brotherhood and Salafism," says Mr. Shaikh.
---