After film, push strengthens for blasphemy clause in Egypt's constitution
Last week, anger over an anti-Islam film fueled protests at the US embassy. This week, religious conservatives will seek to prohibit blasphemy in the Egyptian constitution.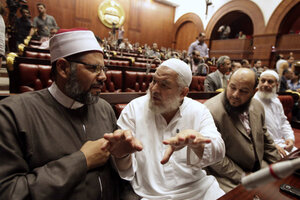 Mohamed Abd El Ghany/Reuters/File
Last week's protests in reaction to an anti-Islam YouTube clip have led to Egyptian demands that the United States prosecute the filmmakers and may give a decisive push to an effort to enshrine in the Egyptian constitution the criminalization of blasphemy, or insulting religious figures.
While the US-based filmmakers are protected under the First Amendment in the US, in some parts of the Middle East they could be prosecuted under laws that criminalize disparaging religion.
In Egypt, the backlash could bolster a preexisting effort to insert a clause banning religious insults into Egypt's new constitution. Islamist parties support the effort, and the idea of criminalizing blasphemy has broad public support, but civil rights advocates argue it would restrict free speech.
"I think this will just provide incredible strength to the push to have that provision in the constitution," says Heba Morayef, a Cairo-based researcher for Human Rights Watch, of the current uproar. "I'm very depressed about what this means for freedom of expression."
Many Egyptians appear to reject the extent of free speech protection in the US, considering it more important to protect the public order than to protect a person's right to say offensive things.
---