Not just Romney: Many in Middle East are losing faith in a two-state solution, too
But Palestinian reasons differ dramatically from US presidential nominee Mitt Romney's secretly videotaped comments.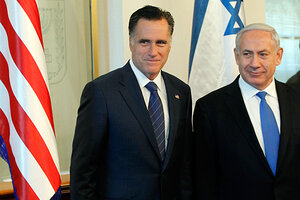 Charles Dharapak/AP/File
A newly leaked video shows presidential hopeful Mitt Romney questioning the longstanding US road map for peace in the Middle East – and, in fact, if the Palestinians want peace at all.
"I look at the Palestinians not wanting to see peace anyway, for political purposes, committed to the destruction and elimination of Israel, and these thorny issues, and I say there's just no way," he said, according to Mother Jones, which publicized the video taken at a private fundraising event.
Mr. Romney is not alone in his pessimism; many Israelis and Palestinians have also lost hope in the two-state solution outlined in the 1993 Oslo Accords. But Palestinians warn that blaming the stalemate squarely on their people risks damaging what little credibility the US has left in the Middle East.
"[Romney] has done everything possible in order to show himself not only [in support] of Israel but also of the most right-wing extremist parties in Israel," says Qais Abdul-Karim, a veteran politician and a leader of the Democratic Front for the Liberation of Palestine. "I think that this tendency to stand in the camp of the right-wing … plays with the future of the United States and its position in the region, which is already fragile and shaky. Such a policy will completely be devastating to whatever credibility the States still have in the eyes of the public in the Middle East."
Israelis, Palestinians lose faith in peace
---