Is Lebanon becoming Syria's Western front?
With Syrian rebels sheltering in Lebanese border towns and Syrian Army troops planting land mines on both sides of the border, Lebanese fears of getting dragged into the conflict are rising.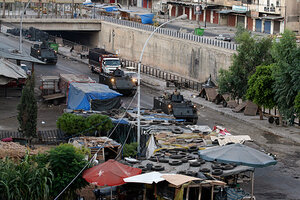 AP
NOURAT AL-TAHTA, north Lebanon
Anti-Assad politicians in Lebanon are calling for the deployment of United Nations peacekeepers along the country's volatile northern border with Syria to curb Syrian troop incursions and artillery shelling as some locals pack up their bags.
The calls come amid rising concerns that Lebanon's northern border, where support for Syria's rebels runs deep, is being dragged into the worsening conflict next door. But the request for a UN presence is likely to go unheeded, given Lebanese government opposition and international reluctance to risk getting embroiled in the conflict by dispatching foreign troops.
The Lebanese government, the bulk of which is composed of allies of Damascus, says it will take a strong stand against Syrian border violations but rejects the idea of allowing UN peacekeepers into north Lebanon.
"When the Syrian shelling of Lebanese areas occurs, we will not disassociate ourselves but will protest," Najib Mikati, the Lebanese prime minister, told reporters earlier this month. "When there are attempts to destabilize Lebanon from Syria, we will not disassociate ourselves, and we will take necessary measures."
But he ruled out the deployment of the 11,500-strong UN peacekeeping force known as UNIFIL in south Lebanon to the north. "Is it the right time?" he asked rhetorically. "Is UNIFIL ready to deploy along the border?"
---